2017 CSA Information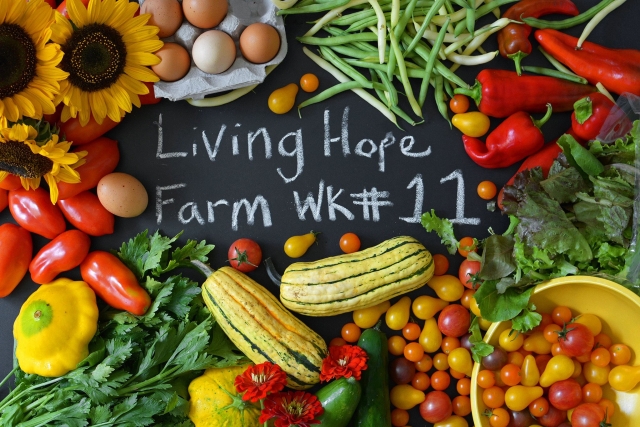 Living Hope Farm is delighted to continue offering CSA produce shares to its members in 2017. Here are the details:
The main growing season is 24 weeks long (May 23 through November 3).
Shares come in two sizes, large and small. Both share sizes include weekly pick-up. Both share sizes also include u-pick fresh flowers and herbs in season. You choose the produce you receive on both share sizes when you use our online ordering system!
Large share owners receive 10 items per week all season long in order to keep our same 2016 pricing.
Small share owners receive 6 items per week.
Optionally, some choice items are u-pick from our fields.
Large shares cost $775, and small shares $475. A payment plan is available for both large and small shares for an additional fee of $10.

New!

Chicken Shares: Plump, juicy tender chickens averaging 4-5 pounds each. You will receive 1 whole frozen chicken per month May thru October for a discounted price of $120.00 for a total of 6 chickens. We will also have additional pieces and whole chickens available in our market for sale. Sign up for a Chicken Share for best pricing! You may purchase as many chicken shares as you wish while supplies last.

New!

Turkey Shares: We will also be raising Thanksgiving turkeys this season! Pre-orders will begin in the spring!

New!

Egg shares: One dozen eggs per week for 24 weeks $132.00 (a discounted price of $5.50 per dozen).

New!

Bread shares: One loaf of bread per week for 24 weeks $126.00 ($5.25 per loaf). Currently available on Friday only. Bakery chooses variety weekly.